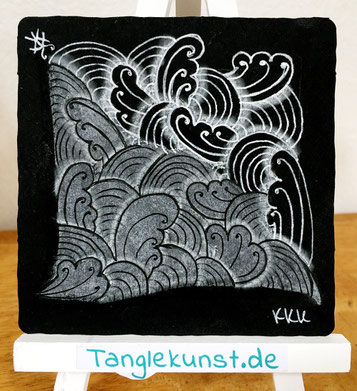 Diva Challenge #310: Mein Tangle Frunky 
Es ist großartig mein eigenes Muster von vielen Menschen getangelt zu sehen. So viele inspirierende Varianten und unterschiedliche Stile. Mein Beitrag sollte auch etwas ganz besonderes sein.
It's great to see my own pattern tangled by so many people. So many inspiring variations and different styles. My contribution has to be something special, too. 
Spezielle Technik auf der schwarzen Kachel
Jedes Jahr treffe ich mich mit meinen "Zentangle-Sister"  - wir haben zusammen die Ausbildung zur CZT in Providence gemacht. Dieses Jahr hat Jennifer Hohensteiner uns diese tolle Technik gezeigt. Bitte schaut mal auf ihren Blog, sie ist unglaublich kreativ und eine inspirierende Künstlerin. Daher will ich nicht zuviel vorweg nehmen, sie macht bestimmt dazu noch einen detaillierten Eintrag. Einfach erklärt geht es so: 
Grundiere und verwische einen Teil der Kachel mit dem Zenstone 
Zeichne darauf mit dem schwarzen Micron 01 Fineliner
Auf den Rest der Kachel zeichne mit weißem Gellyroll
Schattiere mit Kreidestift oder Zenstone
Für klare Grenzen umrande alles mit dem grauen Fabrico 
Viel Spaß beim ausprobieren. Das ganze Zubehör gibt's im Zen & Tangle Shop.
Special technique on black tiles
Every year I meet my "Zentangle-Sisters" - we met each other on our CZT seminar in Providence. This year, Jennifer Hohensteiner has shown us this great technique. Please check out her Blog, she is unbelievable creative and an inspiring artist. That's why, I don't want to tell too much, because she will surely do a blog post on this topic soon. So here the basic steps:
Add a thick layer of zenstone on your tile and use your tortillion on it
Draw the pattern with the black Micron 01 Fineliner
On the black part of the tile draw with the white Gellyroll
Shade with the white pencil or Zenstone
For a clear frame us the grey Fabrico to paint on the white
Have fun! All the material is available in the Zen & Tangle Shop.