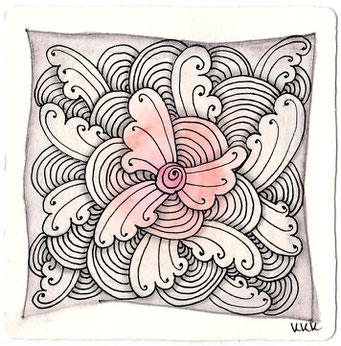 Eine Kachel mit dem Wohlfühl-Tangle:
In der Diva Challenge des heutigen Tages geht es darum,  wirklich einfache Muster zu zeichnen. Wir leben in einer Welt voller Überfluss und manchmal hat man das Gefühl, dass einmal das alles nur noch zu viel ist. Bei der heuten Aufgabe geht es darum, sich von allem frei zu machen, nur Muster zu zeichnen, mit denen man sehr vertraut ist und sich wohl mit ihnen fühlt. Dementsprechend einfach gehen sie einem von der Hand.  Kein Nachdenken, keinen Gedanken an das Endergebnis verschwenden - darum geht es bei dieser Kachel. 
Todays Diva Challenge is really about drawing easy patterns. We live in a world of abundance and sometimes you just have the feeling that everything is just too much. In todays Challenge it's just about releasing yourself from everything. Just draw patterns that are very familiar to you. These tangles are easy to draw for you. No considering, no thoughts about the result - that all about this tile.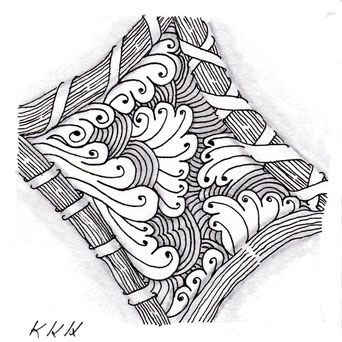 Mein Tangle: Frunky
Das ist ein Muster bei dem ich mich einfach wohlfühle. Es ist zum ersten Mal auf dieser Kachel hier rechts entstanden, als ich eigentlich das Tangle "Floo" zeichnen wollte. Ich habe das Stepout nicht richtig verstanden und so ist Frunky entstanden. Es ist einfach und dennoch so vielseitig. Und irgendwie ist es ein bißchen Funky...
My Tangle: Frunky
This is a tangle that is very comfortable for me. When I draw it first time on this tile above, i actually wanted to draw "Floo". I misunderstood the stepout and so Frunky was born. It is simple and versatile. And somehow it's a little bit funky...