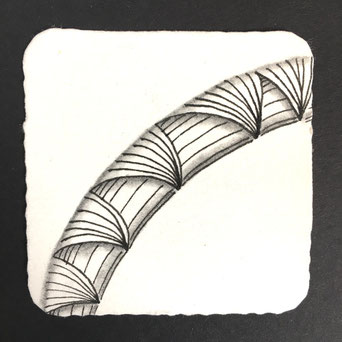 Das Bordürentangle RowRow
Ganz einfach zu zeichnen ist dieses klassische Bordürentangle. Es ist ein Muster aus meinem Buch " Zentangle für jede Gelegenheit". Was mir an diesem Muster besonders gefällt, ist die Einfachheit und die vielen Variationsmöglichkeiten. Die Originalfassung im Buch ist mit geschwärzten Zacken, wie ihr auf der Kachel unten sehen könnt. Viel später habe ich das Muster in einem Kurs unterrichtet und danach festgestellt, dass ich eine andere Version davon unterrichet habe. Und die hat mir sogar besser gefallen. Also ist jetzt die neue Variation im Stepout zu sehen.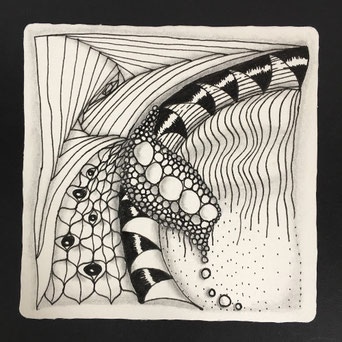 Border tangle RowRow
This classic border tangle is very easy to draw. It's pattern from my book "Zentangle für jede Gelegenheit". What I specially like about this tangle, is the simplicity and the many possibilities to alter it. The first or original version from the book is shown here on this tile. Much later I taught this tangle a class and realized afterwords, that I taught it differently. And I actually liked the variation much more.
Stepout Rowrow
Wann ist ein Muster eine Variation oder ein "Tanglation" und wann beginnt es ein eigenes Muster zu sein? Für manche mag dieses Muster eine Schwester von dem Zentangle-Original Tangle "Knase" sein.
When is a tangle a variation or a "tanglation" and when does it beginn to be a new tangle? For some this pattern my look like a sister of the Zentangle-Original-pattern "Knase".